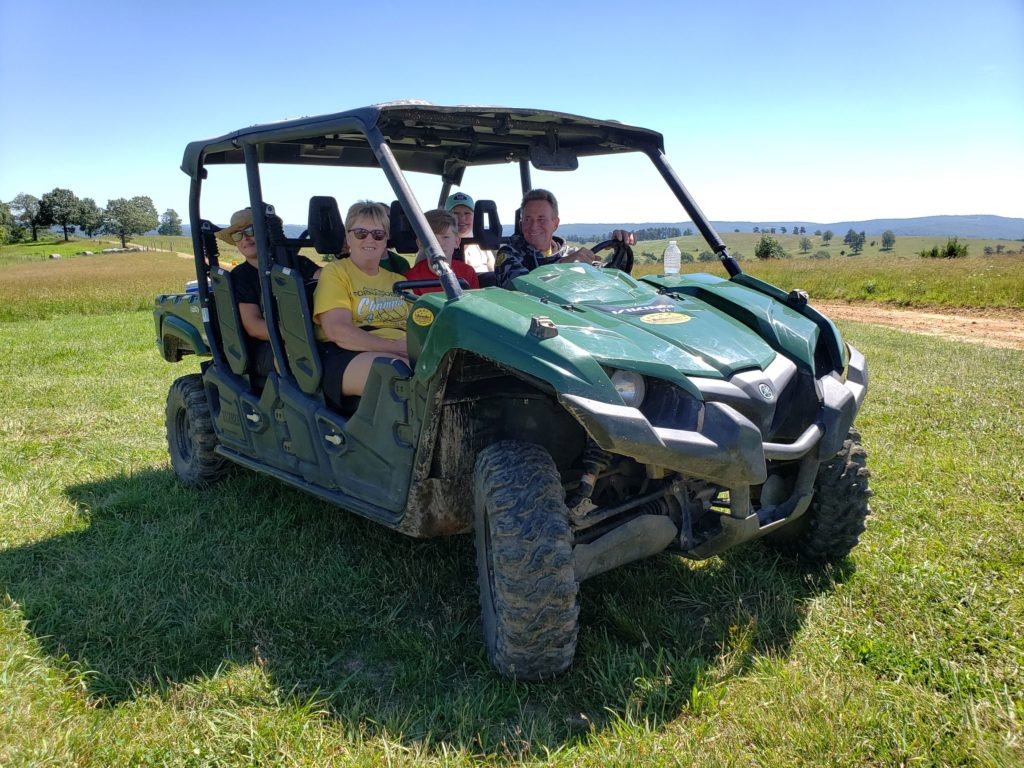 6 seat Side x Side
On site and ready for you to rent 7 days a week. The rental rates on these vehicles include your ranch day fees. There is not an additional charge for passengers.
Half Day Rental(3.5 hour rental) is $375 plus tax.
Full Day Rental (7 hour rental) is $599 plus tax.
Room for Six
This 6-occupant machine achieves driver and passenger comfort with a class leading 115.6″ wheelbase that smooths the ride and allows for best-in-class interior space. Both front and rear center seats are offset, as are the middle headrests, allowing for unmatched middle passenger comfort and convenience. All passengers have a 3-point seatbelt for riding comfort, and extensive noise and vibration reduction measures provide a smooth and quiet ride. ***This vehicle can hold up to 6 people with a total weight capacity of 850lbs. ***
FREQUENTLY ASKED QUESTIONS – FAQ
Please arrive 30 minutes before your scheduled rental time.
What Should I Bring?
Valid driver's license
Suitable clothing for the elements and season, you will get a bit dirty riding in our ATV's
Water, Soda, Food, Snacks, whatever you'd like to have for a picnic or to enjoy your day (Vehicles have room for you to strap down an ice chest)
Sunscreen
Bug spray in the summer months
Hand cleaning wipes are never a bad idea!
Note that no alcohol or drug use is permitted during the rental period
Remember to Pack in / Pack out and to keep our beautiful area clean!!
What is provided?
Instructional review on the operation of our vehicles
Fuel for the vehicles
Map of the Park (Trails are marked for direction and difficulty)
Helmets are not required on Side X Sides. If you would like to wear one, please bring your own. We have a few that you can borrow, but can not guarantee size or fit.
How young can children be and ride in the Side X Side?
They must be able to be safely buckled into a passenger seat
What will we see during our experience?
You can drive right past the herd of Buffalo
You may see other wildlife; Deer, Wild Turkey, Ground Hogs, Eagles, Hawks, lots of Squirrels………… Cows too
Depending on the season and recent rainfall, there can be many waterfalls flowing and the creek crossings are fun to navigate. There are times that the waterfalls are dry.
When I rent the Viking 6 Seat Side X Side from the Wilderness Rider Ranch is there a separate fee for admission?
No, the entrance fee to the ranch is included in the Viking rental fees.
Where are you located?
If traveling southeast out of Kingston, AR on HWY 21, go 5.2 miles and turn south on to Madison County 3260 Rd/Newton County Rd 9. If traveling northwest on HWY 21 from the southeast, the county road is 3.7 miles from the HWY 21/74 intersection in Boxley Valley. Continue for 4.0 miles on the county road and the entrance will be on your left. Follow the drive up to the parking area
Wilderness Rider Buffalo Ranch and Adventure Park Google Maps Location https://wildernessrider.com/location/
Note that we only rent our vehicles for use on Wilderness Rider Buffalo Ranch and Adventure Park property. You can not leave the ranch property with the vehicle.
Where in the area can we stay?
Can we cancel our reservation?
Reservations can be cancelled or changed with a full refund up to 10 days prior to your reservation.
Due to limited availability, our trips/rentals are non-refundable within 10 days of the booking.
This is a rain or shine event. However, we will be happy to reschedule for later dates.
Reschedules prior to 72 hours before your current reservation will receive a gift card for the full amount to use in the future.
If you reschedule within 72 hours of your current reservation you will receive a gift card valued at 75% of your current booking.
Customers may receive a full refund or credit in the event of ranch cancellation.
Contact us by phone to cancel or inquire about a rescheduling. 870-220-2944
No-shows will be charged the full price.
Gift cards are valid for 36 months.
Rental Rules
You must:
Be at least 21 years of age with a valid driver's license to rent and/or drive our vehicles
Have a valid credit card
Complete and sign all rental contracts and agreements
Return rental unit at or before the agreed rental completion time
Complete pre and post trip vehicle inspections
We do not require, but always recommend wearing a helmet on all motorsport vehicles. You must bring your own if you wish to wear one.
Note that:
Children 12 and under riding as a passenger in a Side X Side must have an adult 25 years of age or older as their driver
Children must be able to be safely buckled into seats
Pets may ride in our vehicles at their and your own risk. The seats are not designed for pets. You will be responsible for your pet's safety and for any damage they cause.
Fuel is supplied.
No alcohol or drug use is permitted during the rental period

While in the Vehicle
Please:
Wear appropriate safety equipment such as seat belts at all times
Keep doors closed when vehicle is moving
Only one passenger per seat, do NOT carry passengers on any other part of vehicle
Do NOT submerse or drive in water deeper than the vehicles floorboard
Never operate a vehicle beyond your skill level
Use caution, avoid traversing (going sideways) on hills to lower the risk of a roll-over. It is best to approach hills straight up or straight down.
Do not tow with your rental vehicle or let the vehicle be towed. If stuck or if the vehicle is inoperable, please notify Buffalo River ATV Rentals or Wilderness Rider Buffalo Ranch and Adventure Park personnel
Misuse of rental unit or an obvious disregard for Wilderness Rider Buffalo Ranch and Adventure Park will terminate your rental immediately! You will not receive a refund!