We are open daily and excited to have you come visit us!
Wonder awaits!   Come for the day or stay and camp!
Book Now
Motorized Recreation
 Side x Side Rentals
Camping
---
Over 3000 acres of spectacular dirt and dual sport riding in a pristine natural area.
One of a kind waterfall and specialty campsites. These are limited and must be reserved prior to arrival. 
Individuals, Groups and Events welcome.
Adjoins Buffalo National River Park & The Sweden Creek Natural Area.
Most people bring their own off road vehicles and many come to hike and camp.
Dirt Bikes, ATVs, Side X Sides & Jeeps
Hikers, Climbers, Campers & Outdoor Adventurers
Day Usage and Overnight Opportunities
Currently Open Most Days Year Round
Events and Appointments
Weddings and Receptions
870-220-2944
832-474-2990          832-527-2774
NOTE: Waterfalls and features are rain dependent and may be dry during summertime or drought conditions.
---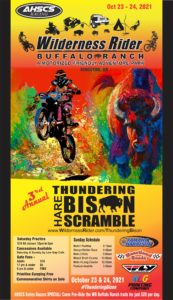 THE RANCH IS ALSO OPEN FOR NORMAL DAY USE AND CAMPING ON THE RACE WEEKEND
Do you know how big the Wilderness Rider Ranch is?
THERE WILL BE PLENTY OF ACTION AND ROOM FOR EVERYONE!
THE TRAILS ARE STILL OPEN FOR DAY RIDING AND THERE ARE PLENTY OF CAMPSITES AVAILABLE TOO.
Racers have a special designated area for all practice, racing and camping.
So, don't worry about racers crossing the park trails while you are out exploring the wilderness.
And, racers…don't worry about being hit or held up by day riders while you are racing on the course.
Book Now
MOTORIZED RECREATION
Bring your own off road vehicle or rent ours to explore over 2500 acres of trails, waterfalls, creeks and more. You can even drive by the herd of Buffalo.
The terrain varies from mild to wild with meandering wooded trails, stunning overlooks, waterfalls, rocky inclines, plenty of elevation changes, natural springs, beautiful creeks, and of course, some mud.
Motorized Option 1: Bring your own motorized vehicle                       DAY RATES
Day Rate is $30 per ATV, JEEP, Side by Side or 4 Wheeler (this includes the fee for the operator)
Additional people in the same vehicle are just $10  per passenger
Day Rate is $20 per Dirt Bike, Mountain Bike or Fat Tire Bike
We provide a great place to ride, but if you don't have an off road vehicle to recreate with we have an answer for that too!
Motorized OPTION 2:  PRIVATE SCENIC GUIDED TOURS 
Book Now
Explore the pristine wilderness of The Wilderness Rider Buffalo Ranch in a tour customized for you. Many features can be seen from the comfort of our 6 seat Yamaha Viking Side x Side.  These tours are ideal for most ages and mobility levels. They can be tailored for more adventurous travelers and include short hikes to special features or can be entirely motorized for those with mobility issues who still want to experience the magic of being deep in the Ozark Wilderness.
While the tour vehicle holds up to 5 passengers if you book the tour the extra spaces will not be filled with additional guests. This will a private experience for your group only.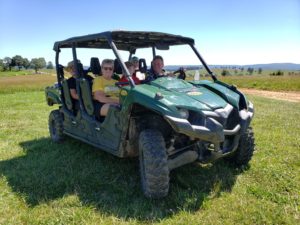 Motorized OPTION 3: Rent a 6 seat 2019 Yamaha Viking Side x Side
On site and ready for you to rent 7 days a week. The rental rates on these vehicles include your ranch day fees.
---
Book Now
CAMPING
Camping is $15 per person
Family camping is available for $50 and includes 2 adults and up to 3 Children under 15 years
Additional children are just $5 each
There are unique campsites available for individuals, small groups and large groups.
Campsites can be reserved online.
The property is huge and we almost always have room for you. Give us a call 870-220-2944
Camping fees do not include motorized recreation on the property.
Camping fees do give you access to hike the park.
You will be able to drive your RV or vehicle with gear to a campsite (many campsites are accessible by vehicle). If you drive a Jeep you will need to pay Day Use Recreation Fees.
If you have special requests please contact Donny or Lynn by telephone. 870-220-2944
---
HIKING
Hiking Day Rate is $10 per person
---
---
Special thanks to Extreme Terrain and their CLEAN TRAIL INITIATIVE PROGRAM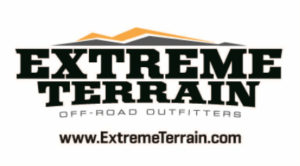 ---
The Wilderness Rider Buffalo Ranch and OHV Adventure Park
Physical location:  On Newton County 9 just 4 miles south of Hwy 21.
YOUR GPS IS LIKELY TO GET YOU LOST!
Use GOOGLE MAPS and search for The Wilderness Rider Buffalo Ranch.
Google will bring you right to our gate.
Do NOT use our mailing address in your GPS
Here are our coordinates, but be sure to come in off of Hwy 21 about 6 miles East of Kingston. If you use GPS coordinates from anywhere south it will bring you in UNPASSABLE ROADS!
Our Location: N35.960491 W93.455791
The easiest and most accurate way is to  Google Wilderness Rider Buffalo Ranch and Google Maps will bring you straight to us.
We recommend coming in from the North off of Hwy 21. There will only be 4 miles of dirt road.
832-474-2990