MOTORIZED RECREATION
Bring your own off road vehicle to explore over 3000 acres of trails, waterfalls, creeks and more. You can even drive by the herd of Buffalo.
The terrain varies from mild to wild with meandering wooded trails, stunning overlooks, waterfalls, rocky inclines, plenty of elevation changes, natural springs, beautiful creeks, and of course, some mud.
Motorized Option 1: Bring your own motorized vehicle
Day Rate is $30 per ATV, JEEP, Side by Side or 4 Wheeler (this includes the fee for the rider/driver)
Additional people in the same vehicle are just $10  per passenger
Day Rate is $20 per Dirt Bike, Mountain Bike or Fat Tire Bike
We provide a great place to ride, but if you don't have an off road vehicle to recreate with we have an answer for that too!
Motorized OPTION 2:  PRIVATE SCENIC GUIDED TOURS 
Book Now
Explore the pristine wilderness of The Wilderness Rider Buffalo Ranch in a tour customized for you. Many features can be seen from the comfort of our 6 seat Side x Side.  These tours are ideal for most ages and mobility levels. They can be tailored for more adventurous travelers and include short hikes to special features or can be entirely motorized for those with mobility issues who still want to experience the magic of being deep in the Ozark Wilderness.
While the tour vehicle holds up to 6 passengers an additional (7the passenger) can ride with the guide.  This will be a private experience for your group only. Any extra spaces will not be filled with additional guests.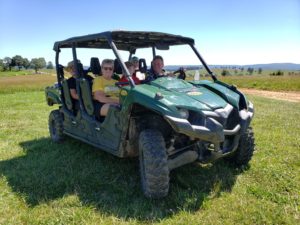 Motorized OPTION 3: 6 seat Side x Side
On site and ready for you to rent 7 days a week. The rental rates on these vehicles include your ranch day fees.
---
Book Now